Posted: May 3 2022
Ron walks miles for prostate cancer awareness
Real Stories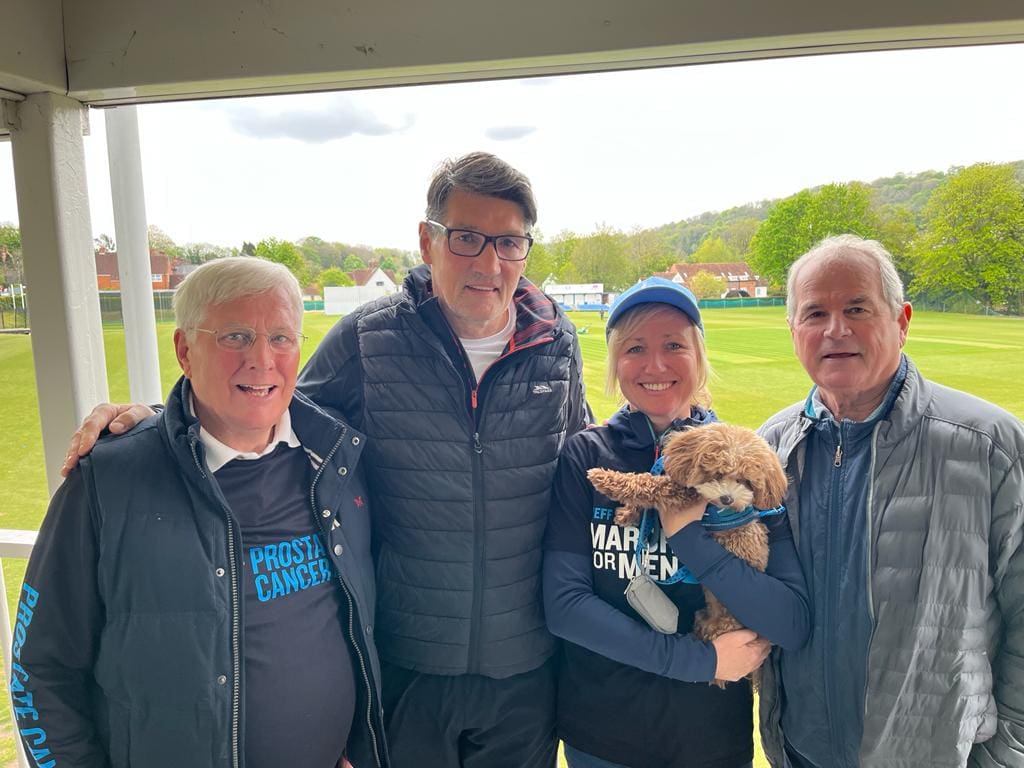 On Friday 29 April The Bob Willis Fund were delighted to join former England stars, cricketer Allan Lamb and footballer, and Luton Town legend, Mick Harford on a prostate cancer awareness walk organised by Buckinghamshire County Cricket Club Over 60s and 70s Chairman Ron Hedley.
Ron took part in Jeff Stelling's March for Men in 2017 and, despite not being a lover of walking, completed the 28 miles from Durham County Cricket Club to Newcastle's St James' Park to raise £4000 for Prostate Cancer UK.
Returning from the walk more aware of prostate cancer symptoms, Ron took a PSA test. He was told it was clear with a reading of 4. Twelve months later, encouraged by his wife Pat, he went for another test and the reading had increased to 18. Further tests revealed bone cancer in the spine and pelvis. Ron underwent chemotherapy and radiotherapy and now has a hormone injection every three months to try and keep the cancer at bay.
Since his diagnosis Ron has relentlessly organised events to raise awareness of prostate cancer and money to help find a quicker and more accurate test.
In 2019 he hosted an England Over 60s XI at High Wycombe Cricket Club, raising another £4000.
And in September 2021 Ron and his friends from Berkshire CCC and Middlesex CCC over 60s and 70s embarked on 10 walks around the grounds where he played for Buckinghamshire CCC that season. Each walk was followed by a pub lunch which everyone enjoyed.
Ron contacted fellow prostate cancer sufferers Allan and Mick and was thrilled when they agreed to join the final walk which swelled the numbers to 70. Bob's wife Lauren and members of The Bob Willis Fund team were also delighted to support the event.
Ron's tenacity in organising these walks has raised another £9500 taking the total to almost £18000. Special thanks must go to Alain Roux and The Waterside Inn at Bray who donated a voucher for dinner for two at their Michelin Star restaurant which went for £1700.
Hats off to Ron, a season ticket holder at his beloved Luton Town. He nags men to get tested and has undoubtedly saved lives. And while living with cancer he still plays cricket, runs Buckinghamshire County table tennis teams and manages to run a business too. A real inspiration who has turned his own adversity into a lot of good.
« Back to news archive