Posted: November 8 2022
Ron misses the rain for 2nd walk in Wiltshire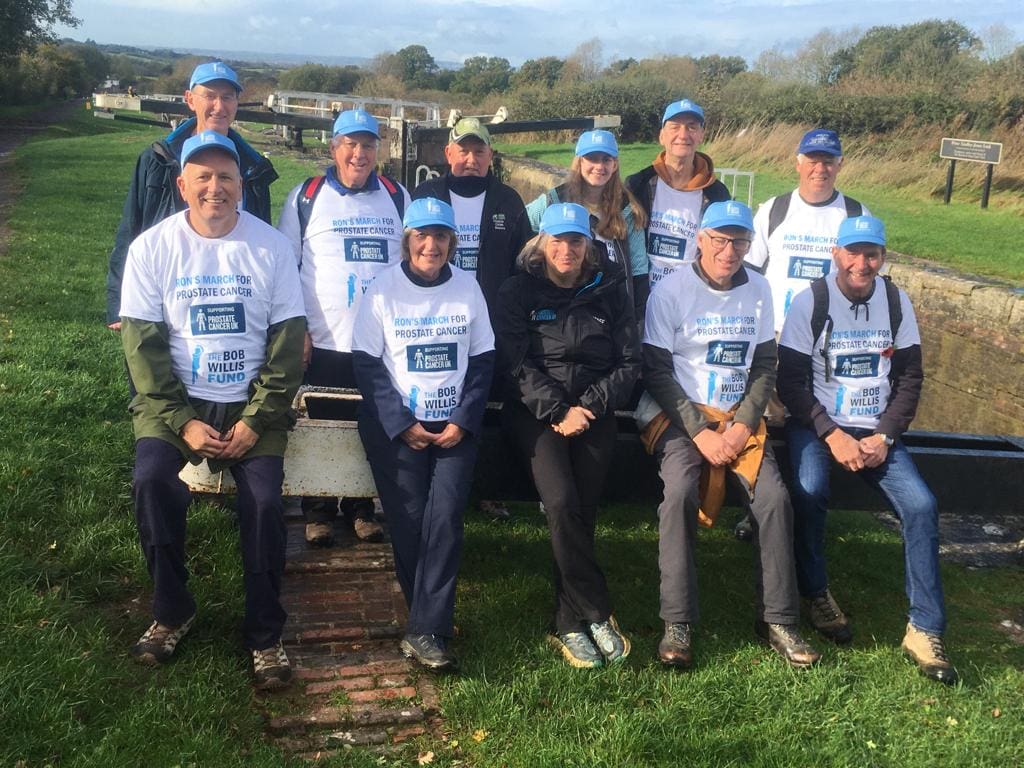 Wiltshire Walk 3rd November 2022
Organised by Nigel Hill of Wiltshire Seniors Cricket, 11 walkers headed for Devizes Cricket Club to walk along the Kennet and Avon Canal to the Barge Inn at Seend, five miles away.
Justin Wagstaff was not happy with the idea of walking the five miles and decided to run the distance in full cricket kit, bat, pads, gloves and all. He gave the walkers 50 minutes start and did beat most of them to the Barge Inn overtaking them about 300 metres short of their final destination. Justin, we are all in awe of you and hope you reached somewhere near your target of raising around £300 for the cause.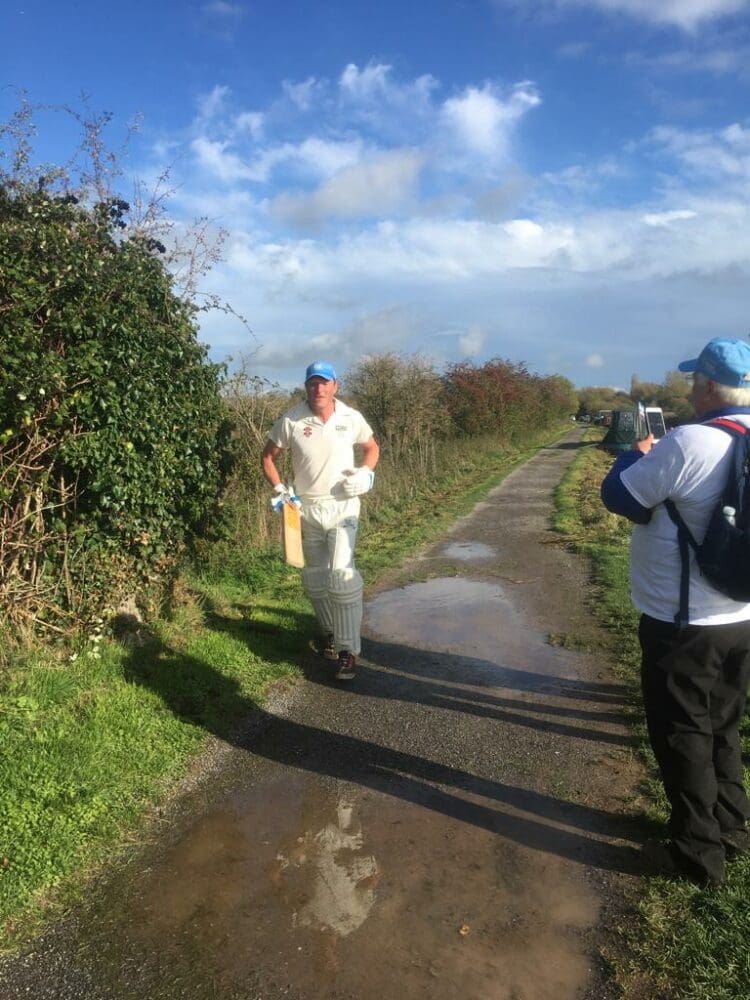 The walkers were pleased to be joined by the CEO of Prostate Cancer UK, Laura Kerby and I am sure Laura had a lovely day out with us.
The heavy overnight rain and light morning drizzle magically changed to blue sky and sunshine as the walkers left Devizes and headed for the canal. The beauty of the walk was experiencing the Caen Hill series of 29 locks. I think most of us preferred walking to navigating 29 locks. If you are ever near Devizes, do not miss out on these magnificent locks.
The canal was heaving with boats and people, either navigating the canal or those who live on the canal all year round. Everyone was very friendly and some put their loose change into our collecting tin. Many were keen to learn about prostate cancer and why we are doing so many walks At the end of the walk we met a couple who had heard Ron on BBC Radio Wiltshire, a few weeks ago. They came to donate and support us. We hope Ron does not now think he is a Radio Star. We also met an ex Devizes CC player wo be pleased to donate and a lady whose husband has just been diagnosed with prostate cancer. At breakfast in the Bear Hotel, Devizes, Pat and Ron got chatting with an interesting couple from Shropshire who kindly donated. We can recommend the Bear Hotel too.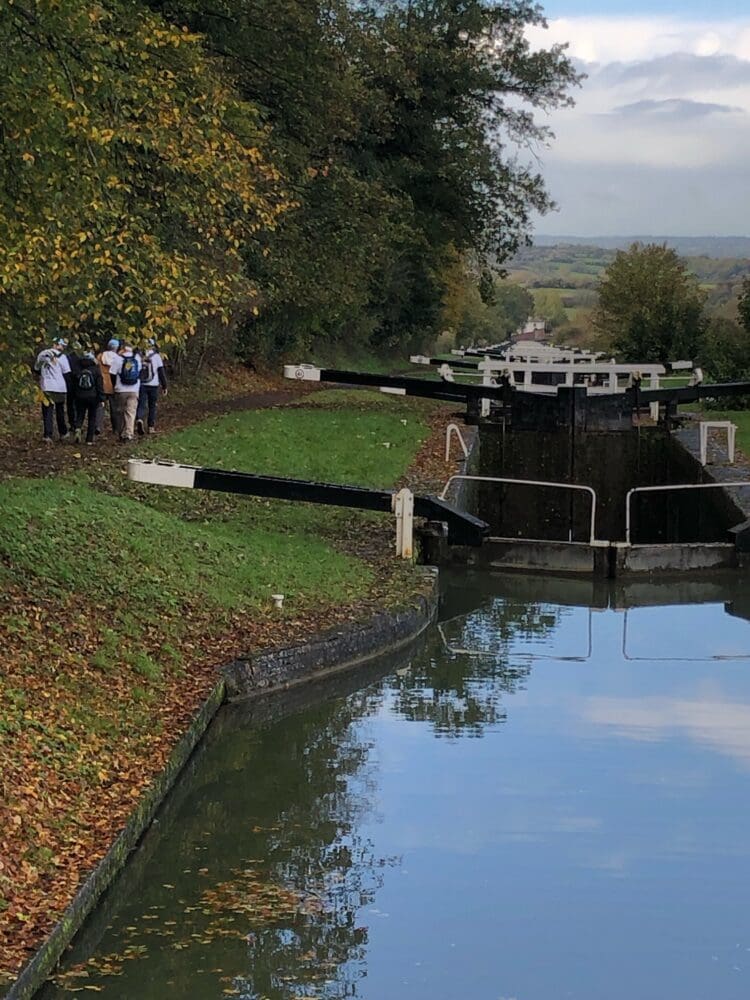 We thank Nigel for all his hard work, all the walkers and Laura for joining us. A big thank you to all those who have donated. You can still donate at www.bobwillisfund.org/ronsmarch
We anticipate our next walk will be on the second Wednesday in December somewhere in Suffolk, to be confirmed.
On Friday evening Ron attended the Cross Arrows CC dinner at Lords Cricket Ground and was delighted to chat with Mark Butcher, Surrey, England and Sky TV, a close friend of Bob Willis and an Ambassador of the Bob Willis Fund. He was very interested in our project and said he will endeavour to join a future walk.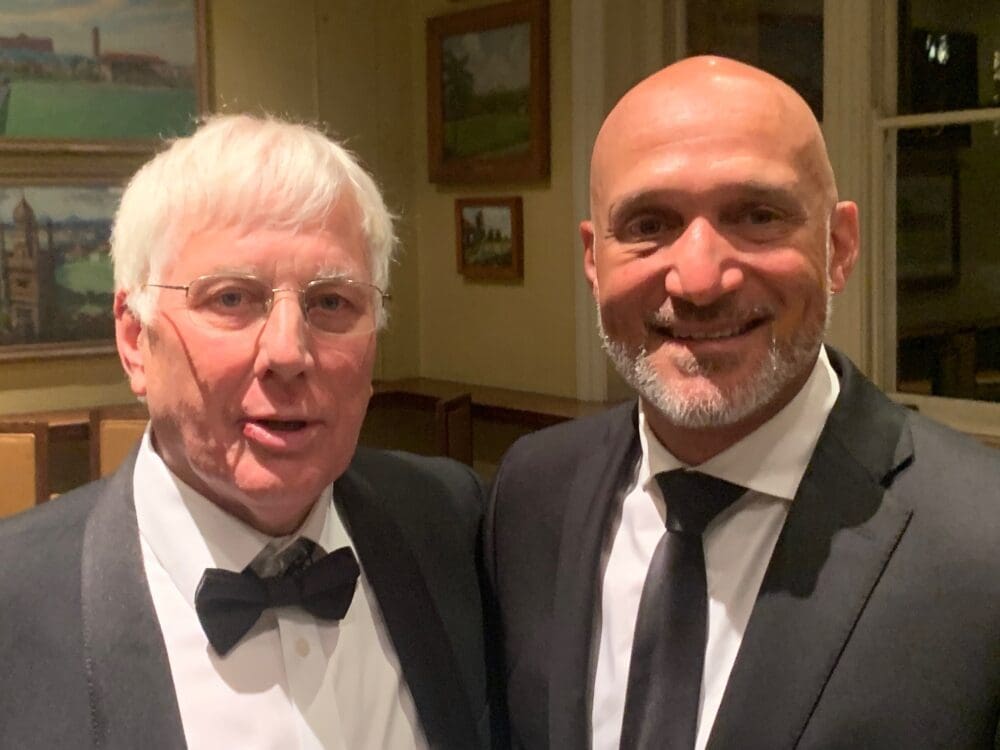 « Back to news archive