Posted: March 28 2023
Ron's March to The Bob Willis Fund's Spiritual Home

Ron's March for Prostate Cancer Research
The sun shines on Warwickshire Over 60s and 0ver 70s and Edgbaston Cricket Ground.
March five involving England Cricket Seniors was organised by Warwickshire Over 60s and Over 70s and took place at Edgbaston Cricket Ground, Birmingham, on Wednesday 22nd March 2023.
Over 60 people took part in the walk with Warwickshire Over 60s and Over 70s players and wives supported by people from Buckinghamshire, Derbyshire, Lincolnshire and Worcestershire. A great effort and we thank them all. We were all delighted to be joined by former England Test great Ian Bell along with former Warwickshire players Tim Munton and Andy Lloyd. To add to the Birmingham connection, former Birmingham City players Mick Harford and Tony Coton also joined our walk.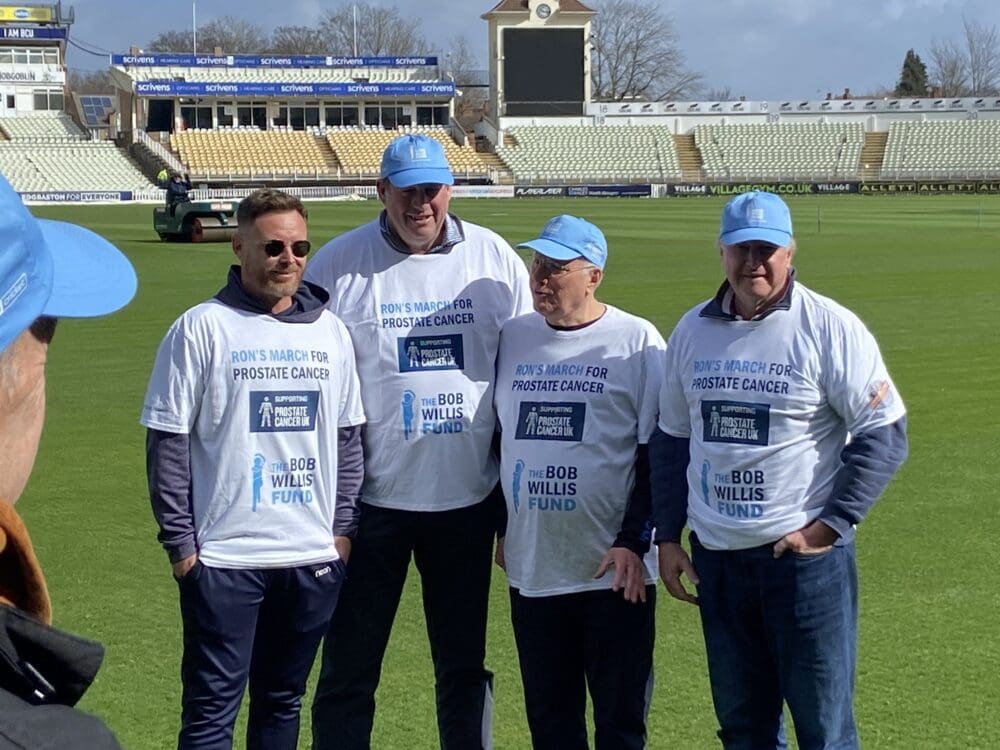 SKY Sports filmed the walk and conducted interviews to be broadcast on Blue For Bob Day, which will take place on the 17th June during England v Australia Ashes Test Match at Edgbaston. We thank SKY for helping us to raise awareness of prostate cancer and our reason for walking, which is to raise funds for Prostate Cancer UK and The Bob Willis Fund. Bob was and still is a Warwickshire and England legend. Lauren, his wife, brother David and Nicola Tallett of Prostate Cancer UK also walked to show their support for England Cricket Seniors.
Walkers met at the very impressive Indoor School and were able to witness England Test bowler Chris Woakes netting, I think all the batsmen amongst us were very pleased we would not have to face him. The walk commenced around the perimeter of the Edgbaston ground and was followed by walking through the lovely Cannon Hill Park, finishing with a final walk around the Edgbaston ground.
We are indebted to Dave Murphy, Warwickshire's Over 60s/70s representative for organising such a great day, to the Edgbaston staff and to everyone who walked and donated to our cause. A special mention to Andy Owen for all of his help at the Indoor School so we could distribute T-shirts, caps and badges to the walkers.
Rons walks now move on to the following venues;
Berkshire Over 60s and Over 70s walk at The White Horse PH, Wokingham on Tuesday 4th April.
Essex Over 60s and Over 70s walk at Old Chelmsfordians CC on Wednesday 12th April.
Surrey Over 60s and Over 70s walk at Horsley and Send CC on Monday 17th April.
Wales Over 60s and Over 70s walk at Abergavenny CC on Wednesday 26th April
Hertfordshire Over 60s and Over 70s walk at The Red Lion PH, Preston, near Hitchin on Friday 12th May.
Lincolnshire Over 60s and Over 70s walk at Louth on either the first or last Sunday in June.
Buckinghamshire/Oxfordshire Over 60sand Over 70s walk at Wormsley Cricket Ground, Ibstone on Wednesday 28th June 2023. The walk will take place in the morning and walkers will be able to stay and watch the match between the Sir Paul Getty Xl and the touring Australian Club, Crusaders.
Cornwall Over 60s and Over 70s walk at Truro CC on Friday, 28th July 2023. The walk will be on the morning of the match between Cornwall Over 60s and the touring Australian Over 60s
We are delighted to have added more walks to our goal of walking in all of the 32 English Counties and Wales who play Over 60s County Cricket.
We hope all Counties will arrange a walk by 15th September 2024.
To donate or join a walk, contact Ron at rjhatters1@yahoo.co.uk
« Back to news archive