Posted: May 20 2023
4 walks in 4 weeks – Ron Marches on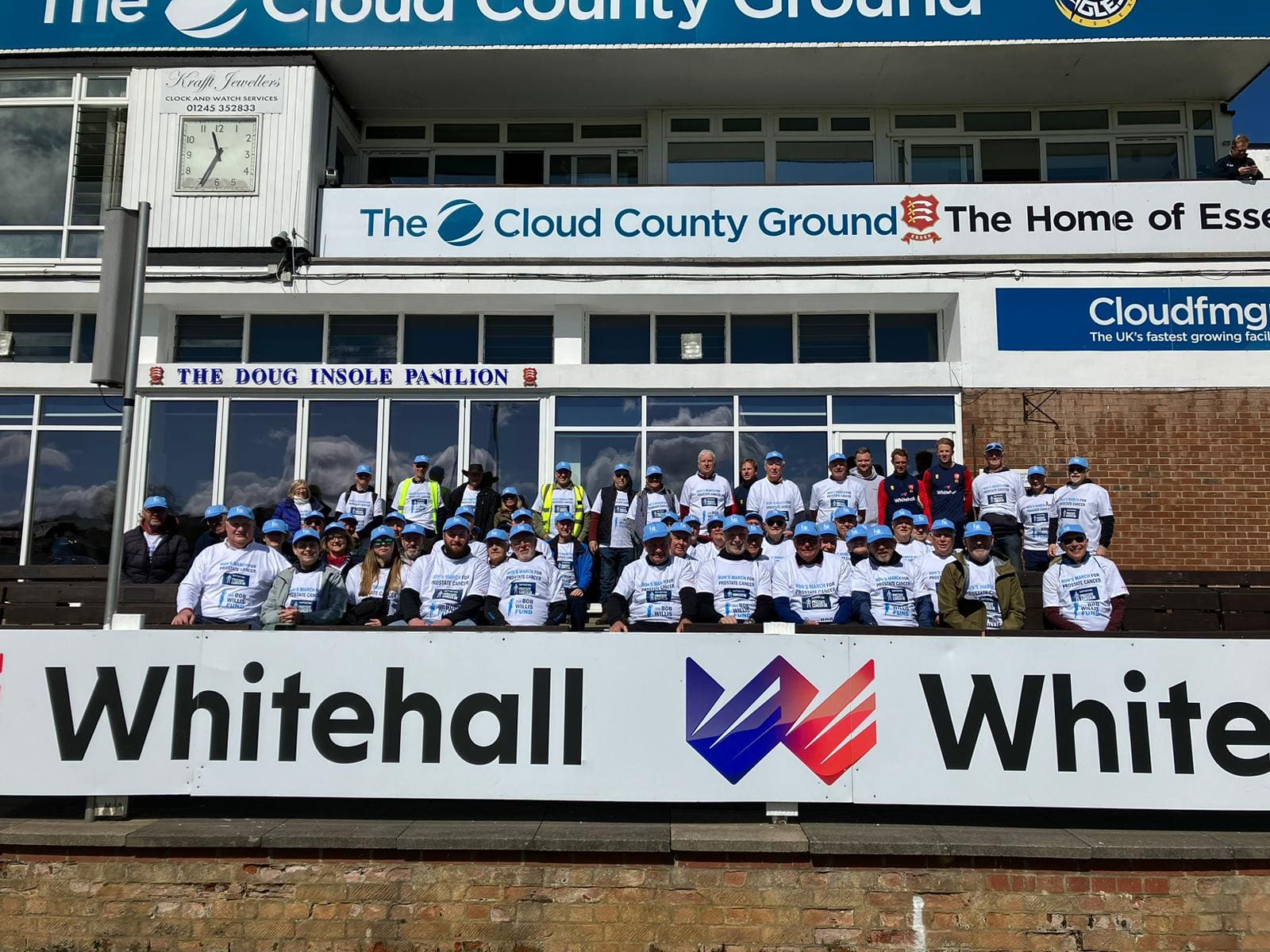 The incredible Ron Hedley has now raised over £13,000, completing a fantastic 4 walks in 4 weeks across Berkshire, Essex, Surrey and Hertfordshire. Ron has prostate and bone cancer and is determined to attempt to walk 33 marches, one in every County playing Over 60s cricket. It is a two-year plan.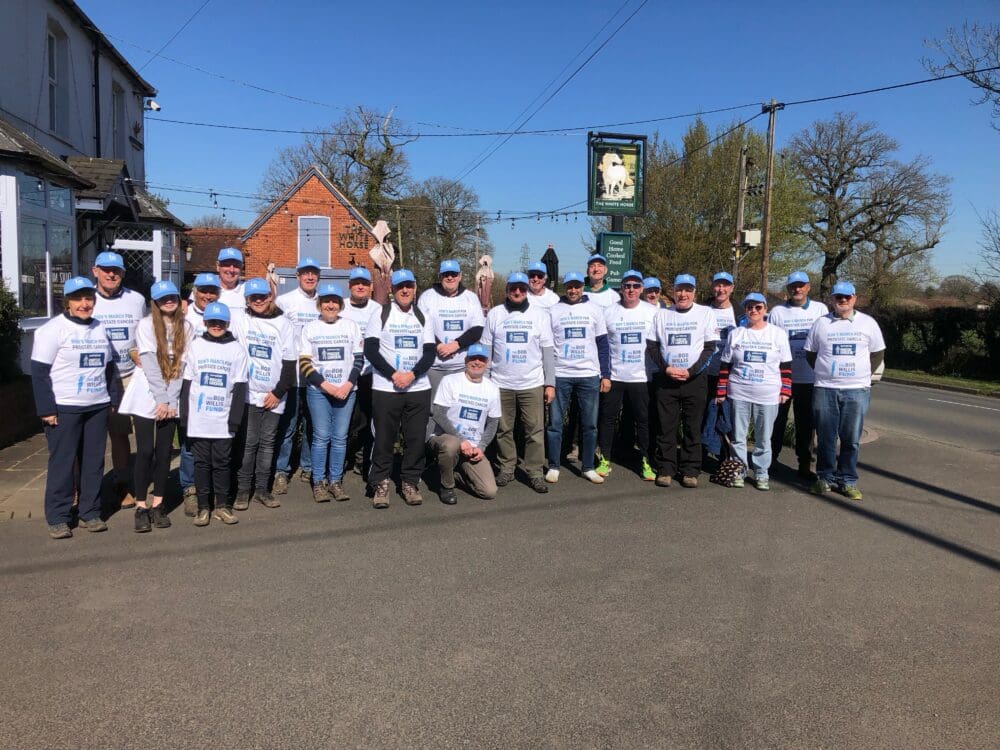 Berkshire
Walk number six took place from The White Horse in Wokingham and was greeted by blue sky and glorious sunshine.
Twenty-four walkers, including three of Terry and Marilyn Bentley's grandchildren, were a delight to have with us. I think they enjoyed their day. They brought the average age down to about 69!!!!! Keith Woodman arranged the walk and took us on a scenic route through the Berkshire Countryside. We were timed to be back at the pub, after a walk of just over 3 miles, at 12.30, and we made it on the dot. Well done, Keith. Clive, Anita and Tom at The White Horse treated us to pre-walk tea, coffee and biscuits, a lovely menu, and delightful lunch meals. (I highly recommend Clive's chicken curry.) They have been so good to our prostate cancer fundraising campaign and to our joint County's Over 70s lunches. We thank them all.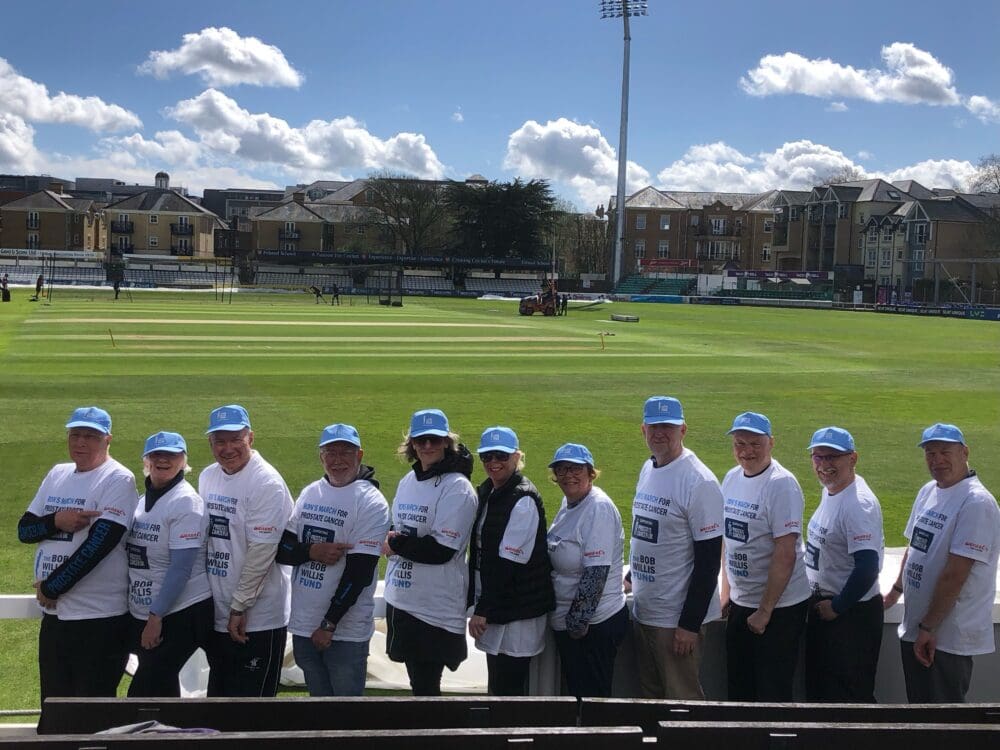 Essex
Walk number seven was organised by Essex CCC Over 60s and Over 70s with a meet at Old Chelmsfordians CC followed by a walk to The County Ground, Chelmsford and back to Old Chelmsfordians CC for a delightful lunch provided by "Wenzels The Bakers", we thank them for their kindness. After a very wet night on Tuesday, we were delighted to wake to the blue sky, sunshine and just a bit of a chilly breeze. Yet again, we managed a walk with no rain, although we did have heavy rain from the moment we
drove out of Chelmsford until we arrived back in Buckinghamshire.
We were delighted that Victoria Polley of BBC Radio Essex, who presents their weekly cricket show every Wednesday evening, joined the walkers for the first leg at the County Ground. Les Gray led the walk with over 60 people enjoying a lovely walk through local parks to the Ground. On reaching the Ground, we watched some of the Essex players having a net session before the four-day match v Lancashire, which starts on the 13 the April. Unfortunately, we just missed Sir Alastair Cook having a practice session. We were delighted that Sam Harmer, Sam Cook, Ben Allison and Jamie Porter gave up their time to come out for a photo call in front of the pavilion. The walkers then returned to Old Chelmsfordians CC for a well-earnt rest and lunch. Phil
Mitchell, who organised the day along with Les Gray, Duncan Blackie and Nick Goode, also organised a prize draw. Pat Hedley has given out T-shirts, Caps, Badges and prostate cancer booklets to fine art and was helped by Laura Kerby, CEO of Prostate Cancer UK; everybody was soon kitted out. Over the 60s, star batsman Dick De Caires and his wife walked with us. A year apart, Ron's first two matches for Bucks Over 60s were both opening the batting with Dick. Both partnerships were over 80, and I will forget how many of those I scored.
We are so thankful to Victoria and Paul of BBC Radio Essex, and we enjoyed listening to the programme. You can hear the show by going to BBC Radio Essex, The Cricket Show on their Twitter feed or listen to BBC Sounds.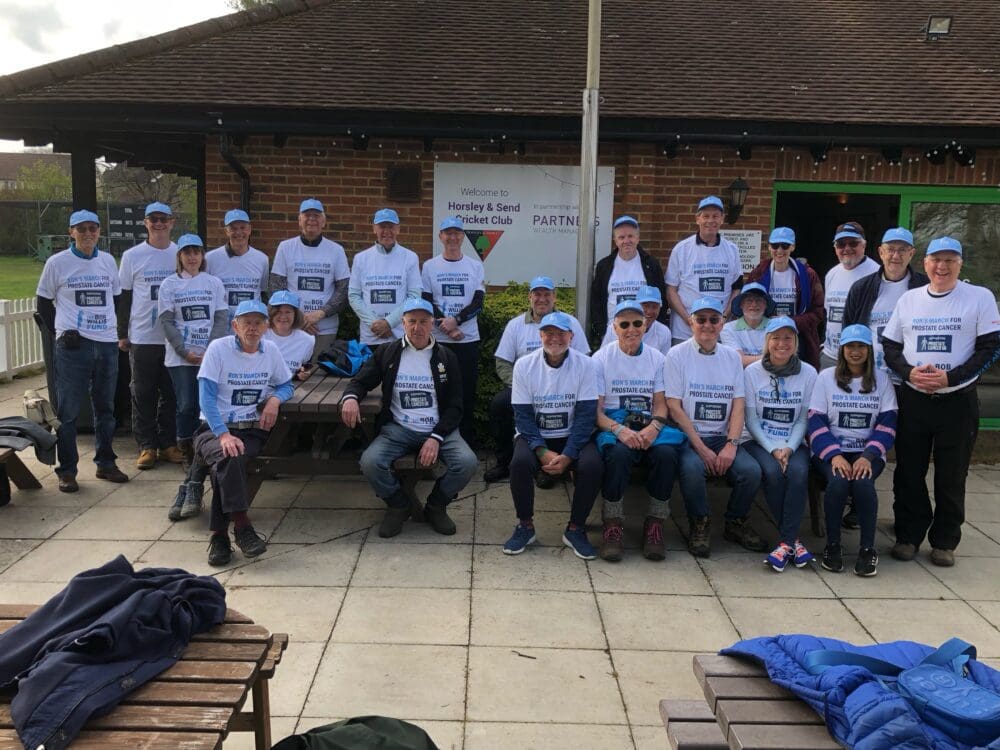 Surrey
Walk number eight took place from Horsley and Send CC on the 17th of April in dry and sunny weather. The day was organised by Surrey Seniors and Surrey Cricket Scramblers; we thank Bill Early and Colin Sharp so much for their hard work in organising such a good day. As you will see in one of the photos, the conditions under foot were not always as good as the sunny weather. I had an early morning walk to one of Horsley and Send CC's squares and sunk into the outfield in places. No wonder the final due to be played there on Wednesday 18 April, has been called off.
The walk was virtually all across the lovely Surrey countryside, with 24 people taking part, and we know that the Surrey walkers were delighted to be joined by Lauren Clark, Bob Willis's widow. Lauren may not have been so happy wearing trainers as some terrain was very muddy. We are most grateful to Horsley and Send CC for pre-walk tea, coffee and biscuits and to Dave for a superb lunch. Once again, we thank all of the people who turned out to walk as part of "England Cricket Seniors
supporting Ron's March" and to those who could not walk but have donated.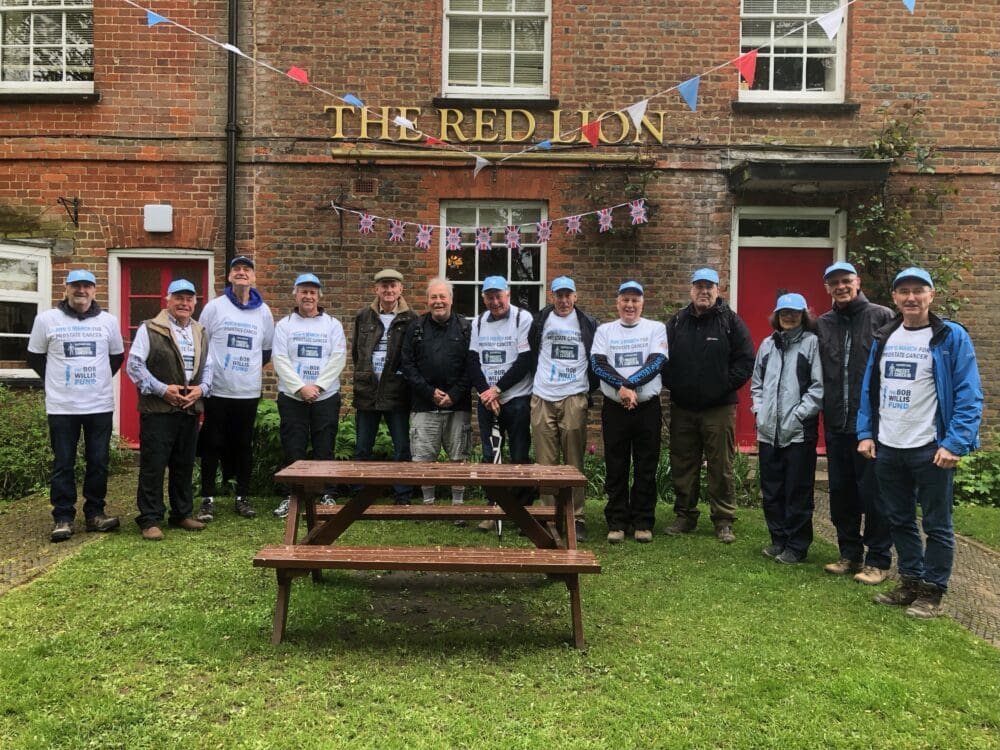 Hertfordshire
Walk number nine was arranged by Peter Robbins on behalf of Hertfordshire CCC Over 60s and Over 70s on Friday, 12th May 2023. The walkers met at The Red Lion PH, in Preston, nr Hitchin, for a walk around the Hertfordshire Countryside. After receiving a Ron's March T-shirt and a Bob Willis Fund baseball cap, four hardy souls met with local village resident Steve as our guide. Unfortunately, due to the recent rains, the terrain was wet and muddy, and for the first time on our walks, the rain decided to join in. Fortunately, the rain did not hamper the walkers from enjoying the pleasant company and the lovely countryside. I know Peter was disappointed by the small number supporting the walk, but it did not detract from the enjoyment or the cause. We arrived back at the Red Lion a bit bedraggled but ready for their lovely lunch. Peter had organised a prize draw which was a great success with an array of prizes, and some had been flown in from Spain the day before. I hope Peter's wife appreciates me drawing her ticket, which won her a wood-turned bowl crafted by our guide Steve. We thank Peter for his extraordinary efforts, Steve and all the walkers who joined us.
We were delighted to be joined by Carl Newbury of The Magic Touch (GB), who has supported our fundraising.
Ron now has a rest from walking until June. Maybe if it stops raining, we might even play some cricket. To join a walk, contact Ron Hedley at rjhatters1@yahoo.co.uk, and to find out more, go to
www.bobwillisfund.org/ronsmarch or www.6070cc.co.uk and click on prostate cancer walks.
« Back to news archive