Posted: August 30 2023
4 more walks – Ron is Unstoppable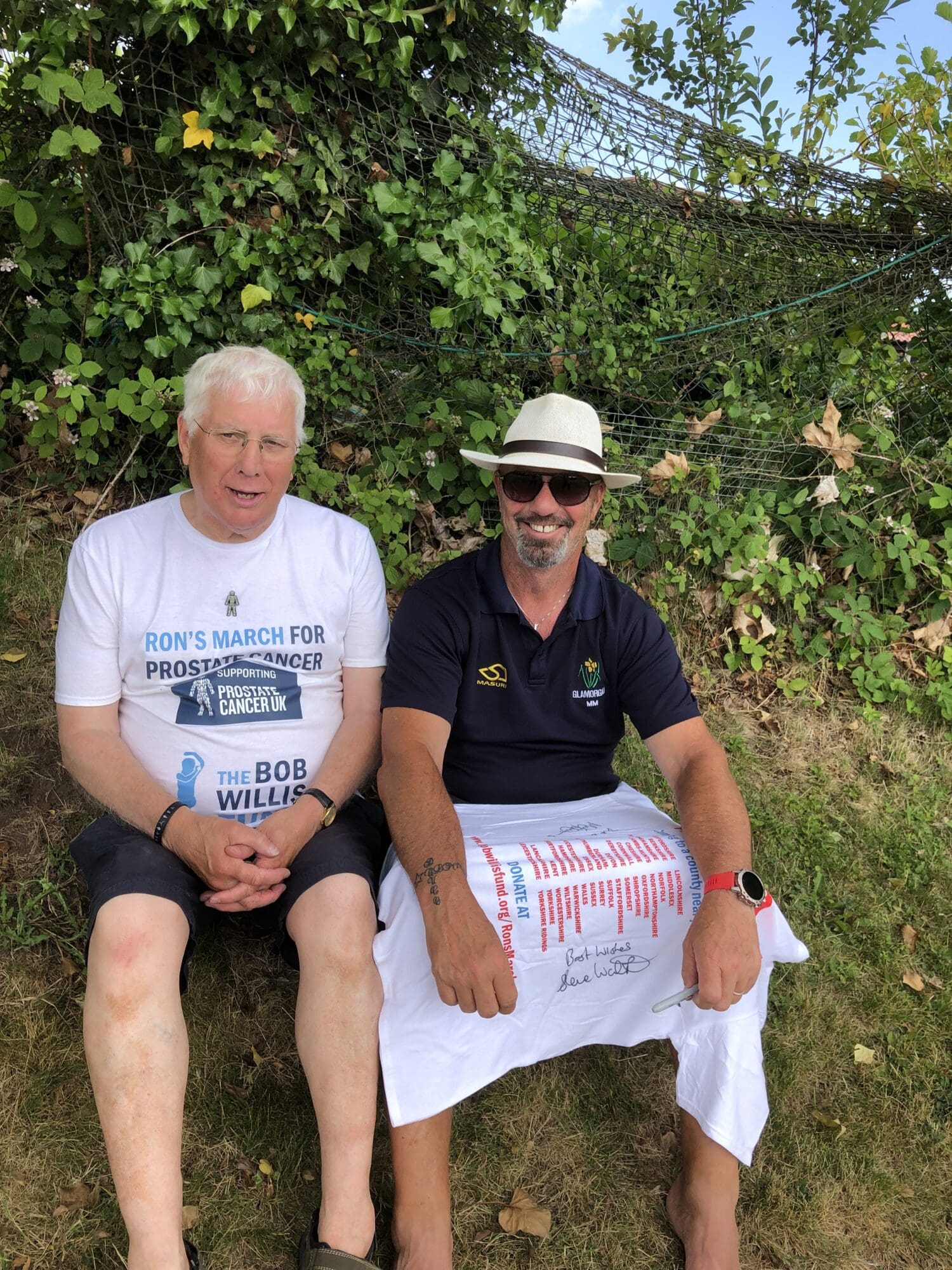 Ron Hedley marches on and stops to take a breath and write up the last four beautiful walks he has had in June and July this year. The Bob Willis Fund is so grateful to Ron and his wife Pat's support. He has now raised over £20,000, including Gift Aid, and we could not be prouder.
Please contact the County organising the walk or with me at rjhatters1@yahoo.co.uk, if you would like more details about joining a walk. We would love to see you.
We do ask that all walkers donate £25 if they can or as much as they can afford.
To donate, go to thebobwillisfund.org/ronsmarch, click on DONATE HERE TO SUPPORT RON and mention the County Walk you are joining.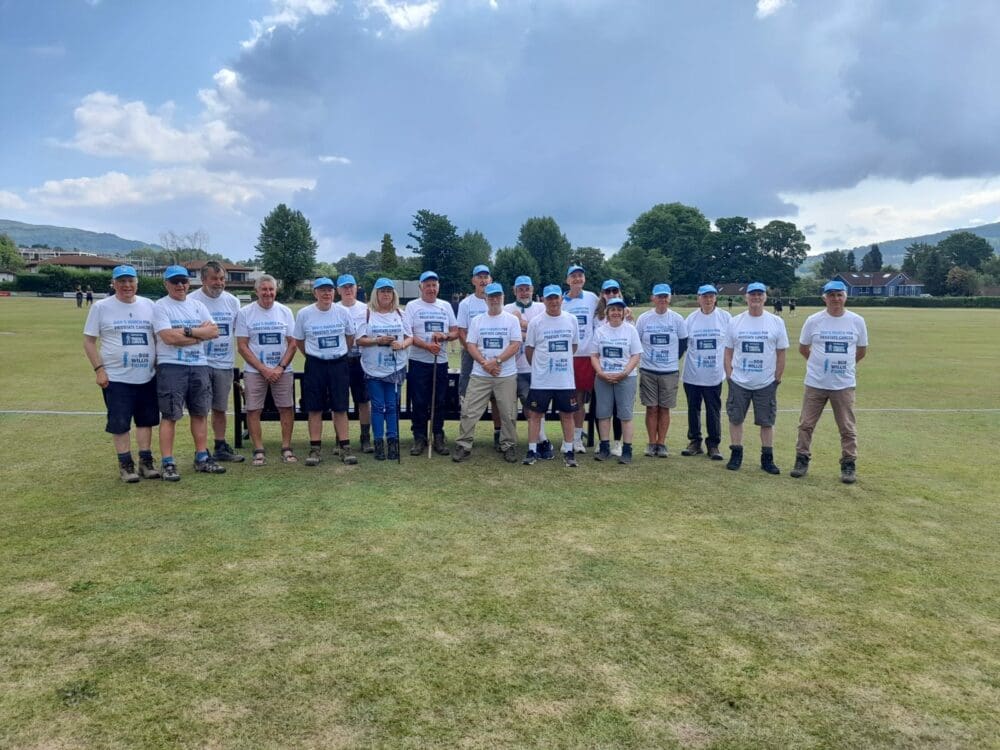 On Wednesday, 21st June 2023, we joined Wales Over 60s/70s for walk No 10 to the top of Sugar Loaf, part of The Brecon Beacons. We met at Abergavenny Cricket Club which was hosting a County 2nd Xl match between Glamorgan and Sussex and were made most welcome. 25 set out on the walk with the Welsh walkers, completing the arduous climb from the cricket ground to the top of Sugar Loaf. The Bucks CCC contingent was taken by car part of the way and all, but I made it to the top. It was undoubtedly the most challenging walk so far. We are grateful to Alistair and Ryland and to all of the walkers who took part. Steve Watkin was with the Glamorgan team as coach, and Mathew Maynard was watching the match. They both signed a T-shirt to be auctioned.
The following Wednesday, 28th June, Buckinghamshire Over 60s/Over 70s were invited to walk at the ground of Sir Paul Getty at Wormsley and to visit the walled garden for walk No 11. The walled garden is a gardener's delight and not open for viewing very often. The Sir Paul Getty Xl were playing The Crusaders, a touring side from Australia. After visiting the walled garden, we enjoyed a day's cricket and a lunch kindly donated by Wenzels the Bakers, we thank them so much. We were delighted to be joined for this walk by Lauren Clark. Thanks to Glynis and Peter Langford for making Stokenchurch CC available for us to meet and then enjoy an after match, barbecue. We thank the members of Stokenchurch CC who made it possible.
On Friday, the 30th of June, for walk number 12, we linked up with Derbyshire CCC Over 60s and the Derbyshire CCC Charity Foundation as part of their Walkathon to raise funds for the Foundation and England Cricket Seniors, Rons March. Thanks, in a big way, to former England Test Star Ian Bell, who is now the batting coach at Derbyshire CCC. We thank all those who walked for these great causes.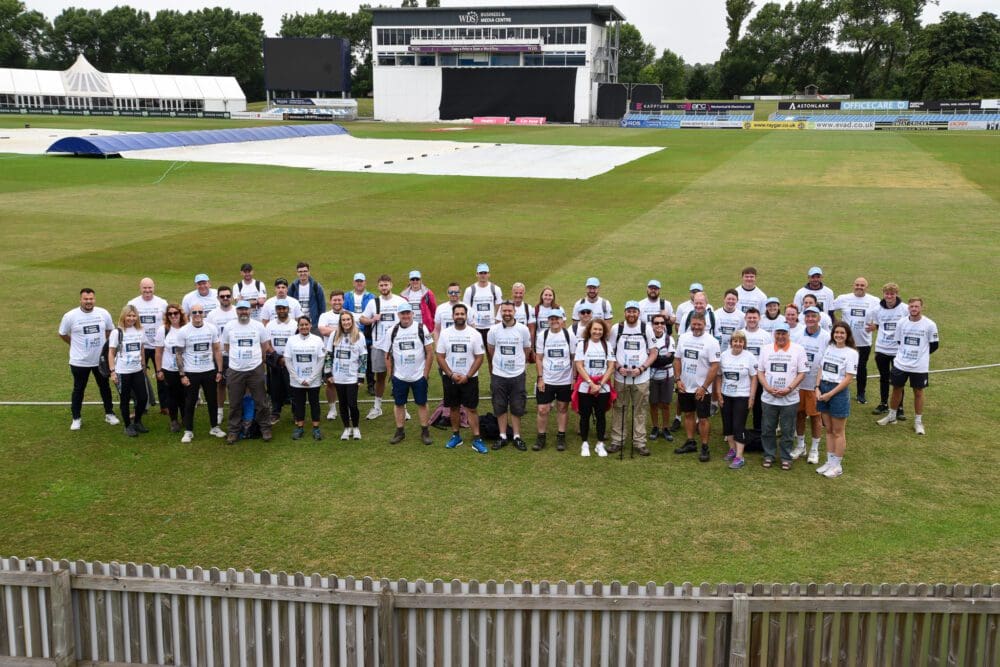 In the morning, 30 30-plus walkers took on the challenge of a twenty-mile walk around Derby and some of its cricket grounds. Pat, Ron and Jonathan Mulcahy of Buckinghamshire CCC were joined by Jade Dyer of Prostate Cancer UK. We drove from refreshment place to refreshment place at local cricket clubs to support the walkers. We even helped in the pub designated for the lunch stop when there was a lack of staff. I think the walkers very much enjoyed an endless supply of chips and beer. We thank Georgina of The White Hart, Stanley, near Derby, for her fantastic help.
At 4.30pm another 25ish walkers set off on a five-mile walk from and back to the Incora County Cricket Ground, Derby. This time the four of us joined the walkers, Jade having been replaced by David Faragher. Jade had to be back in London for a hen do. To greet our walk the rain came and it made the chances of watching the T20 match between Derbyshire Falcons and Leicestershire Foxes unlikely. However, as the walkers arrived back at the ground, around 630pm, the rain stopped, and the match commenced. We were delighted to witness a record Derbyshire opening partnership in T20 cricket and a record total for Derbyshire Falcons. Despite a brisk start to their reply Leicestershire consistently lost wickets and fell well short of the total required for victory.
We are so thankful to Mark, Richard, their staff and the volunteers at the Derbyshire CCC Charity Foundation and to the Club for allowing us to walk, raise funds and watch cricket at their ground.
They also donated two shirts signed by the Derbyshire CCC T20 team, to be auctioned at a later date.
The amount raised, which will be shortly added to our fund, is £2000 from the Derbyshire walks.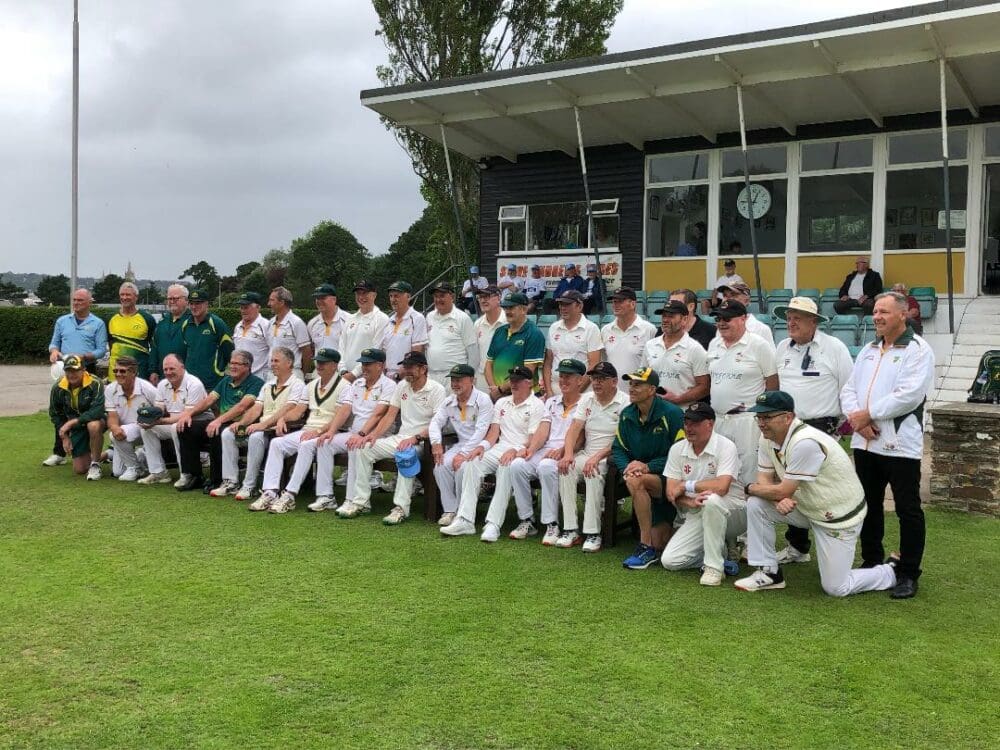 On Friday, 28th July, for walk No 13, we joined Cornwall Over 60s/Over 70s as part of their special day entertaining the Australian Touring Over 60s team at Truro. Before enjoying a day's cricket, we briefly walked around Truro CC's ground and the adjoining park. Australia won the match, but it was a great day, with the rain staying away until after the match. An entertaining "bowl like Bob Willis" video was made, and it did make the locals and The Australians laugh. My attempt was probably about the worst Bob Willis impression, but I did bowl a straight ball for the first time in years. Two or three of the Cornwall players, as did Chris Dennis, did an excellent take. In the evening, Chris, you must see the photo, joined the Truro Male Voice Choir, which entertained a large audience with some lovely songs to entertain us all. Will we ever stop singing "Trelawny"? The Australian Tourists and partners certainly enjoyed the evening.
I am delighted to let you know that during the evening, I was approached by The Australian Tour Manager, who announced they would be donating the "Tour Fines" to our campaign. The total fine of £300 was added to our fund recently, and we thank the Australian Over 60s so much.
We go again in September and October with the following walks;
Friday, September 8th, with Oxfordshire Over 60s at Cumnor CC. This will be an afternoon walk, which will be along the Thames.
Tuesday, September 19th with Somerset Over 60s/Over 70s at The County Ground, Taunton. All walkers will receive entry to the four-day County match v Kent CCC. Somerset do a fantastic carvery, do not miss out.
Wednesday, September 27th, with Hampshire Over 60s/Over 70s at The Ageas Bowl, Southampton. Hampshire are playing a four-day match against Surrey CCC.
Tuesday, 3rd October, with Cambs/ Hunts Over 60s/Over 70s at Thorpe Wood Golf Club, Peterborough
« Back to news archive